Britebay Witch Craft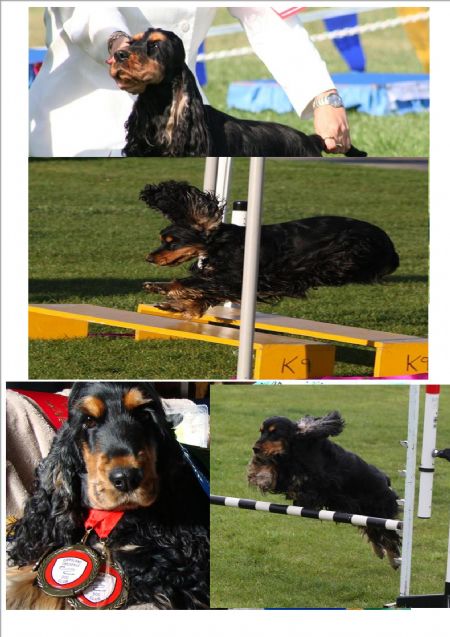 Registered Name: Britebay Witch Craft CCD. RA. DWDF.N. HTM.N.
Titles after her name mean:
CCD – Community Companion Dog
RA – Rally Advanced
DWDF.N. Dances with Dogs Freestyle Novice
HTM.N. Heelwork to Music Novice
Real Name: Misty
Likes:
Lots of cuddles and kisses:
Loves to play games with her human mum – tug of war;
Loves any dogs
Greets humans with "have you got treats?"
Loves to travel
Dislikes:
When mum leaves me.
When she can't walk in water
Not real fond of retrieving what she's told to
Favorite Food:
Chicken necks
Sardines
Toast
Fish
Favorite Toy: Whatever Kenny (my fellow cocker spaniel) has & squeaky toy.
Favorite sleeping position: At the end of the bed on my mum's feet.
Why we love our Cocker: cuddles, cuddles, cuddles and lots of kisses – absolute devotion. Sweet, intelligent and at times goofy. Keeps me warm on cold days when trialing as she sits on my lap. Misty provides constant entertainment and looks for something new to do. A joy to own and grateful that she is in our lives.
Quirks: makes a noise like a monkey.
Grooming: Talks to you while blow-drying her
Achievements: She has excelled in most disciplines that she has tried:
Confirmation/Show Ring:
Intermediate In Show & Reserve Bitch Challenge at CSCV 2012 Championship Show. Judge Mr D Shapland (UK)
Junior In Show at CSS of SA 2011 Championship Show. Judge: Mrs E Doyle (NZ)
Misty has been shown sparingly – as she is training in the other disciplines such as:
Community Companion Dog:
4 passes and titled in late 2013.
Companion Dog:
Currently working to achieve this – hopefully will gain this title within the next six months, just recently received high in trial. Has just got her first pass in 1st place
Rally:
Rally Novice achieved with the 3 passes in 2013
Rally Advanced completed at the end of 2013
Rally Excellent – hopefully will achieve by the end of the year
Dancing With Dogs: We are extremely proud of Misty as she is the first Cocker Spaniel to gain these titles in Australia
Freestyle – passed her Starters in 2012
Freestyle Novice passed in 2013
Currently working on her Intermediate routine
Heelwork to Music – passed her Starters & Novice in 2013 – one of her wins was High In Trial at Royal Melbourne Show 2013.
Agility:
Pass in Agility Novice
Pass in Jumping Novice
Next step is to be titled in both – hopefully soon J