Britebay Back Flip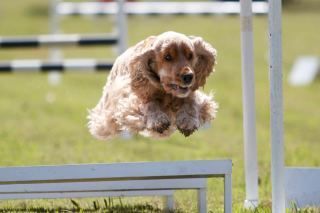 Britebay Back Flip ADM3 ADO3 JDM6 JDO2 GDX SPDM SDX
"Lomani"
Lomani is owned by Mark and Nicole Thoroughgood.

Likes and dislikes
Lomani loves doing agility and training - to the point where we cannot use the words "school" or "training" within earshot of her. She also loves going to the beach, chasing birds, playing with kids, having snuggles on the couch and having her ears rubbed. Her biggest dislikes are definitely being bathed and having her ears cleaned!

Quirks
Lomani has some quirky ways of letting us know what she wants.
For example:
A gentle poke on the cheek means pat me.
Sitting at the kitchen entry talking means feed me.
Waking up to a cocker spaniel standing on your chest means it's a Saturday and it's time to go to agility.

Fave food
There's no food that Lomani doesn't like but I'd have to say that her favourites are sardines, apple, chicken necks, roast chicken and licorice (only ever in very tiny doses!).

Fave toys
We bought Lomani a teddy that is the same colour as her and she has slept with it since the first night she was with us. Since then it has remained her prized possession, gets carried around when she is excited and is the only toy that she hides in a safe spot when visitors come around. Interestingly, she can't stand toys that squeak and will take one off you if you dare squeak it.

Fave sleeping position
Curled up on the couch between my husband and I, or cuddled up on my side of the bed when the weather is cooler.
Why do I love my cocker?
I love my cocker for the smiles that she brings to my face every single day. She is a loyal companion that takes great delight just in being in our company and is always terribly excited to see us. Her tail never stops moving and literally wags from the neck down. I love her enthusiasm and quirky ways. I love her snuggles. Pretty much I love every little bit of her... what's not to love!?!

How do I manage grooming
I groom Lomani myself, after being shown how to by a breeder. I like to keep her in a full coat, but cut a few corners to keep grooming as easy as possible. I aim to groom her about once a month, but will usually use the Coat King and do her paws fortnightly (to stop her slipping at agility). She gets a brush most nights as she sleeps on the couch while we're watching TV.
Lomani's Achievements
We enrolled Lomani in obedience school at 12 weeks and found that she took great delight in learning and achieving. We eventually progressed into a trialling obedience class but decided to see if the faster pace of agility was more her style and were delighted to find great enjoyment in agility both for Lomani and ourselves. We started off going to school once a week, and doing 10 minutes of training per day, but since getting the agility bug, we now attend school 3 times a week and have an ever increasing supply of equipment in our yard.
Lomani started agility trialling in April 2009. So far, in 7 trials, she has gained 11 qualifications, including one first place, three second places and one third place. Her favourite category is jumping where she attained her novice jumping title in her very first jumping trial (a triple). She is now only one qualification off achieving her excellent jumping title.
You can watch Lomani's run at the 2009 Ekka here http://www.youtube.com/watch?v=R9RVxWBjIXA