Welcome to the Cocker National 2008 Website.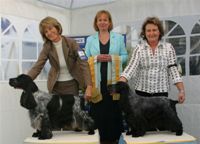 BEST EXHIBIT IN SHOW :- Gnd Ch ROYONI HES TRUE BLUE

RUNNER UP IN SHOW : - Gnd Ch CLEEMIST THE ONE AND ONLY
My sincere thanks to all concerned for a most enjoyable experience. The 13th Cocker National was unlucky 13th as far as the weather was concerned but the officers and exhibitors just continued on through the pouring rain with no fuss or bother! I would like to thank the exhibitors for showing their precious charges under me, we all take the best dog home and in all but very few cases my decisions were taken with great sportsmanship – you are a really great bunch.
The quality of the parti-colours I thought excellent and the best of the solid colours are also really good specimens but by comparison I thought that they lacked the strength in depth.
I am connected with 2 UK cocker clubs that run championship shows and am now secretary of the Midland Cocker Club as well as treasurer of The Fox Terrier Club. I really do know how difficult it is to get anyone to do anything to organise a dog show and your officers and committee did you proud and made my trip a pleasure. Two great stewards and of course Gloria, our PA operator for the event also did a marvellous job. A huge thank you to you all.
Joanna Darby
UPDATES
07/07/2008 - Critique and Judges comments added
29/04/2008 - Full results added
5/04/2008 - in Show Photos added
Please note that all enquiries should be directed to:
Judith Balfour
12 Aranga Ave., INGLE FARM SA 5098
Telephone: (08) 8262 2439
Email: judith.balfour@bigpond.com.au
Website designed and maintained for the Cocker Spaniel Club of SA Inc by Ushiro Designs
Page last updated: 08/07/2008